How it all began...
Rotary Revs is a small independent rotary engine specialist based in West Yorkshire, England.

Strangely though, the company was never really supposed to exist!
Humble Beginnings (2009-2011)
Starting Out
Ben Dunn (Managing Director), started out simply working away on his own Mazda RX-8 in his home garage. You could whittle it all down to something as small as a binding brake in fact, where having heard all the horror stories, Ben put 2 and 2 together and got 10; assuming that the symptoms his car was suffering, were due to a failing engine.
Approaching his local dealership for diagnosis and a compression test, Mazda in return, provided a (typically) extortionate quote for the work. So, Ben took it upon himself to look up the price of the equipment required to perform his own compression testing and proceeded to dive in, feet-first, ordering and importing his own compression tester from America!
The Curious Amateur
Whilst waiting for the equipment to arrive, Ben stumbled upon an engine that had only recently been rebuilt by another UK rotary specialist. Ben bought the rebuilt engine with the intention of fitting it into his own car as a backup option, should the now en-route compression tester confirm his suspicions and reveal the worst.
Once the compression tester eventually landed however, it showed (much to Ben's surprise) that there was in fact nothing wrong with the original engine (at least compression-wise). So the hunt was then on for a broken RX-8 in need of an engine transplant, to make use of the rebuilt engine he had recently purchased.
A 'patient' RX-8 was quickly found, bought and repaired with the fitting of the spare rebuilt engine, and not long after, sold to a neighbour who still runs the car to this day. Ben was now left with a puzzling engine fault on his own car, which he continued to play and tinker with in his spare time.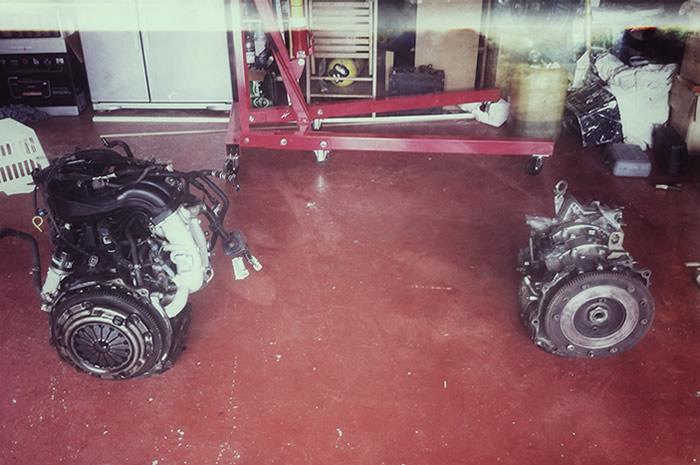 Coming back to the compression tester for a moment, Ben was already involved in the UK Mazda RX-8 Owners Club and managed to strike a deal with the big-wigs, which allowed him to offer compression testing to forum members via his own Trader Forum. Ben's compression tests were priced at a heavily reduced rate when compared with Mazda dealers and other independent specialists at the time, he soon found himself finishing his full-time employment at 6pm and arriving home to queues of RX-8's from all over the country. All lined up, waiting for compression tests.
Dunn Had Begunn
As he met more and more people conducting these tests he became more and more involved with the cars themselves. It wasn't long before people were asking Ben for his opinion on all things RX-8 and asking, 'Would you mind taking a look at this while I'm here?' It was at this stage Ben made the decision to register a company to legitimatise paperwork and the increasing quantity of work. Rotary Revs was born.
Going Pro (2011-2012)
Registered & Official
Ben was now spending what little spare time he had playing with the broken engine out of the car that the other rebuilt engine went into. The following 12 months (and then some) were spent studying every aspect of the Mazda rotary engine. This knowledge was immediately put to use as Ben began to prepare the parts and components required to rebuild his own engine. One fateful (birthday!!) night in October, Ben's engine, at just 65,000 miles old, broke down and was later diagnosed with Stationary Rear Gear-Bearing Failure.
For the next two to three weeks Ben focussed solely on completing his engine rebuild. As it was in pieces, getting cleaned and dismantled anyway, he thought he may as well colour-code the parts whilst at it before rebuilding and fitting it back into his car.
The rebuild was a success - as all the studying, trial and error paid off. This particular engine is still running today and is testament to Ben's meticulous care and attention to detail throughout the build process. Not long after, Ben was approached by his good friend 'Beani' (who's RX-8 had been suffering problems of it's own) and a deal was struck to start the build of a second engine. This build turned out again, to be a complete success and Beani continues to take his car across the country, thrashing it around various racing tracks across the UK, to this day.
Before long the third engine rebuild was in progress, followed by a fourth and soon after a fifth. Before he knew it, Ben was struggling to maintain progress on customer cars in addition to his full-time employment.
One small step for Rotary Revs.
One giant leap for Ben.
It sounds strange but, perhaps luckily(?!!), offers of redundancy came up and although his name was not directly on the redundancy list, Ben decided to take the plunge and volunteer for redundancy. This move would prove to be pivotal in freeing up his time enough to concentrate on fixing the ever increasing flood of RX-8's found on his parents drive.
Leaving 'work' with the intention of rebuilding one car per month alongside smaller servicing and repair jobs, it was not long before Ben was unable to keep up with the workload. His double garage at home quickly filled to the brim and so did the garden shed as storage hit capacity. At one point there were five Mazda RX-8's on the drive way all at once, with a further four parked in-wait, littering his parent's street.
Only able to work on one car at a time, the decision was made to take on a small industrial unit and move Rotary Revs to the next level.
The Next Level (2012-2013)
Our First Premises
Moving into our first unit was a massive step. Faced with 2,800 sq. feet of empty space and next to nothing to fill it except a couple of jacks and a socket set, Ben genuinely thought he would end up renting out space for indoor parking or storage. He couldn't have been more wrong.
Within weeks the first two-post car lift was brought in and fitted. This was one of the biggest steps in taking things forward and had a dramatic impact on efficiency, generally speeding everything up and increasing productivity. This of course allowed him to fix and repair more cars in a shorter period of time than ever before. Very quickly, the 'one car a month' plan turned into two cars per month and then four! Ben was fast having to work all hours just to complete jobs on time.
It was at this stage Ben's then right-hand man, Mikey, was introduced to Rotary Revs. Mikey had been working for a small independent garage in the unit next door and although the two had met in-passing before, they really didn't know each other that well. A couple of weeks after vacating his position, Mikey walked into Rotary Revs to find Ben up to his head with the work load. A short conversation later, Mikey was hired!
The Formation of the Dynamic Duo
At first, Mikey's role was primarily to stand in front of the parts washer cleaning engine components. As time went by though, he began learning more and more about the cars under Ben's guidance and supervision. Eventually he became involved with the repair works too, and then started helping to ease the pressure of the workload. Having started in August 2012, by December his position at Rotary Revs was made permanent. Unfortunately Mikey left Rotary Revs early in 2015 needing a job more suited to his home and family life, still friends though he pops in from time to time.
By late January '13, Mikey had bought his own RX-8 and the single two-post car lift in the garage, had turned into two.
February was to be a big month for us, slowly settling into the new unit. The introduction of our first website combined with a 'trader' status on the UK RX-8 Owners Club Forum meant Rotary Revs no longer relied on word of mouth to generate work.
Customers and their cars started to come in thick & fast, and the old 'ye just drop it off' wasn't really working anymore. So a strict, new booking process was implemented, limiting Rotary Revs to two full engine rebuilds per week. Though it has been difficult, we've managed to stick to this with few exceptions, insisting that any more would compromise on build quality and risk mistakes being made - which is not something we would ever allow ourselves to be known for!
After the second car lift came in, more and more equipment was added to our arsenal; more tools, bigger tool boxes, more bench space, etc, etc. We bought a tyre machine allowing us to expand our services and also some racking units for storage of parts and began to keep a selection of stock. Rotary Rev's was fast becoming a one stop shop for almost all things RX-8.
Despite the productivity and efficiency gains of the new equipment, customer cars continued to pour in and again, a backlog of work began to slowly build up.
We were as much as six weeks behind schedule at one point and fast running out of space to store customers' cars. With our stock piles and new equipment all inside the, now 'small' 2,800 sq. feet of floor space, things continued feel increasingly cramped. Our main concern was with parking space (or the lack of), with as many as eighteen Mazda RX-8's being on-site at any given time and only four "allocated spaces" to our name in the industrial estate, we had completely taken over the place and filled up all available parking.
The constant influx of work showed no signs of letting up, at all, so the search for additional space began.
The End
of a

Second Era (2013)
284 RX-8 Repairs and Counting...
After speaking to our landlord (at just the right time), we were told that another unit on the opposite side of the same complex had just been vacated and was available. A seemingly huge unit with over 4,400 sq. feet in interior floor space was offered to us, but this time (and more importantly), it came with enough parking space for over over twenty cars in a court yard that otherwise, saw very little traffic from the other unit occupants or the adjacent main road. It was Perfect!
So little over 12 months after moving into our first premises, an executive decision was made to move again! Though this time, the task at hand wasn't going to be quite so simple, with all our industrial level equipment, tools, stock and all. If the new place was to work for us in the long term, it would have to be set up a little differently to the 'make do' approach taken with the old.
We needed to move into a ready, purpose-equipped and planned out premises in order to minimise disruption to the business and avoid delays to our work flow. Ben began planning for the move a full two months in advance of our 'move date' with specific attention given to preparing the garage and workshop areas.
The Move, No. #2
Moving into our second premises actually coincided with Christmas 2013, which thankfully due to warmer and less disruptive weather conditions than usual, provided us with a nice 'pause' point, allowing us to complete the move in a somewhat organised fashion. We were able to begin 2014 working solely, from the new unit, which is where we reside today.
The New Era (2014)
From moving into the new unit it was clear that the bigger premises came just in time. Rotary Revs in its new environment continued to grow exponentially and it was through 2014 that some of the biggest changes were made.
We started by having custom made benches put together to give us more 'fitted' space. Powder coated in red to match company colours. A huge 'cleaning station' manufactured out of stainless steel with an inbuilt rinsing sink to give us industrial level capacity where cleaning engines was concerned.
A piece of equipment that was added to our arsenal during '14 that really set us aside from just about everybody else in the industry sector was our in house Vixen Hydro blast cabinet. This new modern water and glass blasting equipment allows us to 'refurbish' the aluminium engine components to look as new giving our engine's that professional level finish that is unachievable by any other means.
Impressed with the quality of the machine we then added a Vixen Jet Wash. This industrial washing machine added to the hydro blast cabinet and our original cleaning techniques enable us to get a perfect level of cleanliness every time and in less than half the time that it takes to do a lesser job by hand. By the time we had completed the 'stripping and cleaning' bay it was a full 3rd of the size of the old unit.
Two more 2 poster lifts were brought in to the Garage, giving us a total of 4 and the capacity to fix several cars at any given time. More stock and tyre shelving was brought in gradually and by the end of 2014 we had more or less filled all of the space in the new unit!
Split cleanly into 5 sections to keep things organised the expanded firm now has dedicated engine stripping & cleaning, engine building, maintenance & repair and stock areas, along with a plush customer waiting area compelte with TV, coffee machine, cold drinks machine and a branded football table!
Continued Growth (2015)
The firm and brand really started to come into its own through 2015. The year was spent putting to work the workshop as a fully functioning speed shop for all things Rotary. For the first time we were able to cater for a different kind of clientele and we really began stepping up the game with full custom builds for customers who wanted a drive in drive out experience and service that saw their cars completely transformed. So in and amongst the general maintenance and repair of rotary's we began building some cars which really set us apart.
It was now that we really began servicing the needs of the country's many RX-7 owners. We brought in our own RX7 specialist - a good friend of Ben's met through the industry, Gene.
This however did make clear a hole in our arsenal. It became increasingly frustrating pouring heart and soul into full car builds and not been able finish the job with a quality tune that we knew was 'right'. We needed a dyno!
This took a huge amount of consideration, being a such a massive outlay to purchase a dyno that we could rely on, that would last and had the pedigree needed to know that it would be an asset and not a burden. In the end we went for it and placed and order for a brand new DYNOmite Hub Dyno by Land and Sea. It took 6 months to arrive and all the while, cars piled up waiting for it.
In preparation for its arrival Rotary Revs expanded again and took on another 2000 sqft of unit space attached to the current unit. This new area is a dedicated space for the dyno, a single space for a current project or race car build and another area intended to house what we hope will be 2016's expansion... CNC Mill and a CNC Lathe. We'll keep you posted ;)